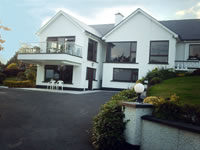 Your hosts at An Teach Bán have both lived locally all their lives, and so have extensive knowledge of the area and what it has to offer. They are keen to show visitors exactly this.

The accommodation is of a high standard and they allow their guests to enjoy this to the full, plus at the same time allow them their space and privacy to relax and feel at home.

Activities in the Area

Places To Visit:
Visitors to the area cannot be lost with activities to do and places to visit. Some of the main attractions in the surrounding area include An Creagan Visitor Centre, Beaghmore Stone Circle, Drum Manor Forest Park, Gortin Glens, Ogham Stone, Wellbrook Beetling Mill and the Ulster American Folk Park. For further information on these local attractions and how to find them, your hosts will be only too happy to help you out.

Hill-walking:
With An Teach Bán located at the foothills of the Sperrins, there is no shortage of routes, both hills and flatter surfaces for those who like the more active pursuits. The beautiful scenery will literally take your breath away. Don't forget the camera. Further information on routes is available from the local Tourist Information Centre in Omagh Tel: 028 82240774

Cycling:
This is probably the best way to cover as much of the area and at the same time enjoy the outdoors. Don't be afraid to stop off and have a chat with the locals, known for their friendliness and good humour.

Fishing:
The local river the Owenkillew, is within walking distance from the apartment, and flows down through Greencastle towards Gortin. Great for Salmon fishing.

Golf:
A selection of Golf courses are available in the local area, from Killymoon Golf Course in Cookstown, Omagh Golf Course, and then further afield Northern Ireland boasts a world class facility in Portrush and Royal Co Down.

Sports:
The local community centre is the focal point for sport in the area. Children in the locality are encouraged to join the sporting clubs such as Gaelic Football for both boys and girls. The community centre contains a Handball alley, along with two outdoor floodlit football pitches and a walking/running track around one of the pitches. Leisure Centres are available in both Omagh and Cookstown.

Culture:
Cultural and heritage is alive in Greencastle. The area was once a Gaeltacht, meaning a place were the Irish language was used widely. The community now encourages locals to get involved in music, language and dance. The Burnavon and Strule Arts Centres provide entertainment in music and the arts, with a varied calendar of events. The Dun Uladh and An Creagan Centres also have regular music sessions for a variety of tastes.

Social:
There are lots of places to choose from when eating out or looking for entertainment. Both Omagh and Cookstown have a wide selection of fine dining restaurants and cafes to choose from. Also locally, we have An Creagan Restaurant. The local bars are Eddie McCullagh's Bar and McCrea's Bar. There is always plenty of craic to be found in the local watering holes.